Oh, I love the circus, I do! THE circus is coming to town, not just ANY circus, but Ringling Bros. and Barnum & Bailey's The Greatest Show on Earth®! As a subscriber to their "E-Zine," I got 20% off some pre-sale tickets. And, yes, I got some pretty sweet seats. If you can't tell, I'm totally pumped.
You may or may not know that when I graduated high school, I had every intention of going to Ringling's Clown College in Florida and joining THE circus. I promised my mom that I'd at least finish college first. For admission to Morehead State's honors program, I had to write something like page 72 of my future life's autobiography. Most students wrote about discovering some cure for some disease or accomplishing something that would benefit humanity. What did I write mine on? It was about dropping out of school, going to Ringling's Clown College, and joining The Greatest Show on Earth® with my (at the time) clown friend and pen pal in THE circus, Larry. Hey, I was accepted to and graduated from the honors program...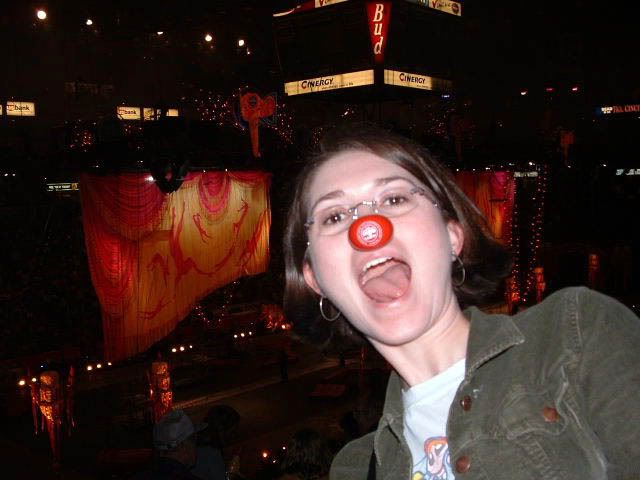 Needless to say, I did not go to Clown College and/or join The Greatest Show on Earth®. Not that I'm bitter about it at all, I love being married to Chase and living in Carbondale and working at a tiny Christian radio station. It may not sound like quite as an exciting of a life that being a part of The Greatest Show on Earth® would have been, but it is exciting. In the past year and 10 months, I graduated college, got married, and moved more than five hours away from my family to a place where Chase was the only person I knew. We had our first breakdown on the side of the road (honeymoon), I lived in my first home outside my parents', got my first "real" job, and went on my first mission trip. I've done some traveling with Chase to some cities I've never been to before and have seen some great concerts. I've met some wonderful godly young ladies and made some great friends, and study the Bible more now than ever before (even more than when I first became a Christian almost seven years ago).
Chase and I will be moving into our second home together in May (where that will be is yet to be known!), and I'll be making my second overseas trip this summer (Chase's first time out of the country) to Poland to share Jesus with some Polish college students. I love being married to a campus minister. I love learning more about and growing stronger in my faith and listening to Chase teach, preach and discuss Jesus. The most exciting thing to me right now (leagues more exciting than joining the circus could ever be) is the prospect of potentially being a foreign missionary with Chase.
Looking back, I can totally see the sovereignty of God in my life. There is no way, absolutely no way that we would have ended up in Carbondale, Illinois together pursuing ministry of our own accord. Exciting times are here, and even more exciting times are just ahead, more exciting than The Greatest Show on Earth®.
[If anyone would like to go to THE circus April 13 – 15 at SIU Arena, let me know, I have a code good through Sunday for a discount on pre-sale tickets!]

*That picture of me with the clown nose is from the last time I went to THE circus two years ago.*