10... 9... 8... 7...
6
...
Assuming Baby R2 makes his arrival around his due date, we've got 6 weeks to go! My sisters and I were all born at least a week after our due dates, so I've been sort of assuming that R2 will make a late arrival as well. But despite being thrice told she'd be having a boy(ultrasounds were not standard at that time), my mom has only birthed girls, so who knows? Does gender have anything to do with whether or not a baby arrives near his/her due date?
Latest pregnancy updates:
*This boy is getting heavy!
*My Korean friend showed me some prenatal yoga stretches & breathing that are supposed to help with labor & delivery.
*I've been having some crazy-go-nuts dreams...
Recently I dreamed that most of my friends and people at my church were zombies. They ate Chase and I knew my only hope for survival was to pretend that I, too, was a zombie. The few survivors who were with me told me that it would never work, but it did. Dreaming about monsters and such isn't that unusual for me pregnant or not, but this next dream is... I dreamed that I was a master yodeler.
Speaking of singing (I guess yodeling is a type or singing... or something), I'm surprised at the lack of Michael Jackson songs that have been done on American Idol this season. During 80s week, no MJ songs; and last night was a great opportunity with doing songs from their birth years, but only one guy did one... and it was the Chris Cornell version of
Billie Jean
(boo!). If I were a contestant on American Idol (which I would/could never be) I would totally do
Thriller
. Like most people my age, I was obsessed with Michael Jackson as a child... see?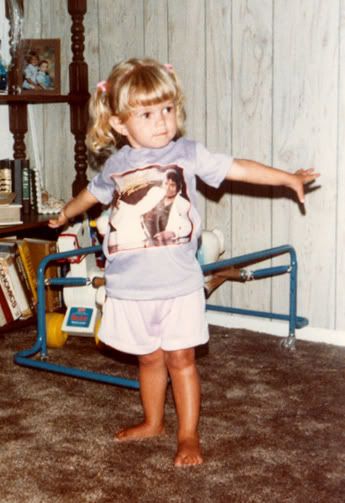 I wonder if there are any bands or artists R2 will be interested in. I'm trying to make him like The Smashing Pumpkins (pre-breakup). Chase got R2 & me
this awesome CD
for Christmas:
It's lullaby versions of Smashing Pumpkins songs. There are lullaby versions of
other bands
, too.
Oh, and for those of you wanting to see a belly picture from the side, Chase put up our Easter picture on
his blog
.