Chase and I made a triangle of travel this Thanksgiving weekend.
Okay, so it's not exactly a triangle, but you can make a triangle out of it… sort of. We left Southern Illinois when I got off of work and arrived in Lost Creek, Kentucky late Wednesday evening. I think we had a total of nine people who stayed the night in a three-bedroom doublewide with two bathrooms. With the help of air mattresses, sleeping arrangements worked out just fine.

Thanksgiving day was full of food, cards and cornhole.

Jess is making his cornhole face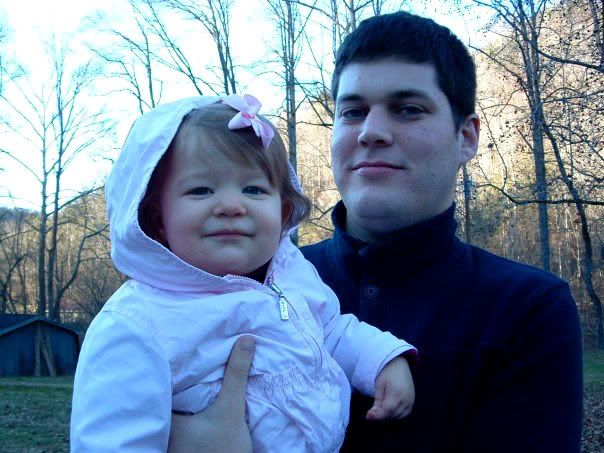 Chase is holding one very cute Mary Daniel. Fun fact about Mary Daniel: her first word was shoe.

Friday evening we headed up to Fort Mitchell. Unfortunately, Sassy Cassie had been diagnosed with strep throat, so she had to miss the Festival of Lights at the Cincinnati Zoo on Saturday. Miranda had to work, so she couldn't go either. They missed out on some very entertaining Rebecca Sue.


Rebecca is my three-year-old cousin who felt the need to yell "Merry Christmas!" to anyone and everyone walking by. If someone walked by without returning her greeting, she'd yell it again louder. And if passing zoo-goers still didn't hear her, she'd yell, "Hey people! MERRY CHRISTMAS!"
Of course my dad egged her on. You might think that the bird on the roof in this picture is a peacock, but you would be wrong. According to what my dad told Rebecca, it's a Christmas turkey. Rebecca proceeded to yell Christmas greetings to several of them, addressing them as, "Hey Turkey!"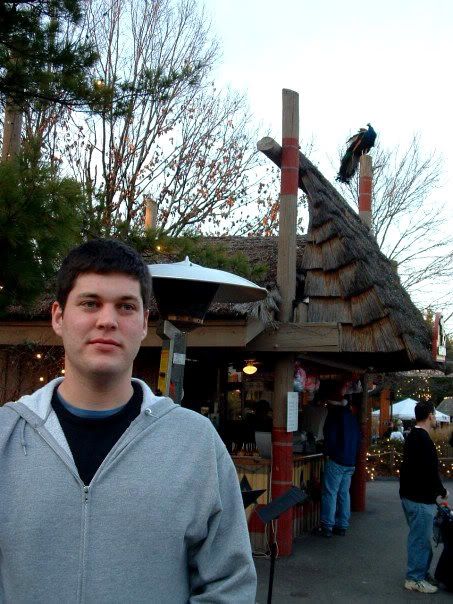 Think I've run out of Rebecca Sue goodness? There's more. Here we are in the elephant house: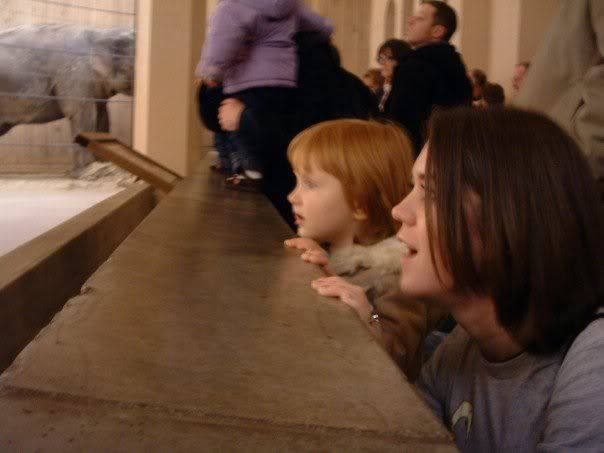 I can't say for sure, but I think my dad got her going about elephant poop. She pointed to it and told me to look, the elephant pooped. She'd yell, "I see it! I see it! He pooped! I see the elephant!" The best, though, was when she started talking to a lady we did not know. (Apparently Rebecca has the habit of talking to strangers.) She very loudly told the lady, "I see the elephant!" and the lady smiled and told her that she was right. Then Rebecca told her that the elephant pooped. After that, Rebecca told the lady's four- or five-year-old daughter that the elephant pooped, and the daughter started saying it over and over like Rebecca was. Ah, good times.
A very pregnant Amy Lea and I met Frosty the Snowman and had our picture taken.



And Chase and I had our picture taken in front of a flaming tree.

We left early Sunday morning to check out a church in Louisville, Kentucky before heading back to Illinois. We also ate some lunch with Paige and David who were nice enough to bring me my coat that I left in Lost Creek.
Wow that's a long post, but I guess that's what happens when I don't update regularly!