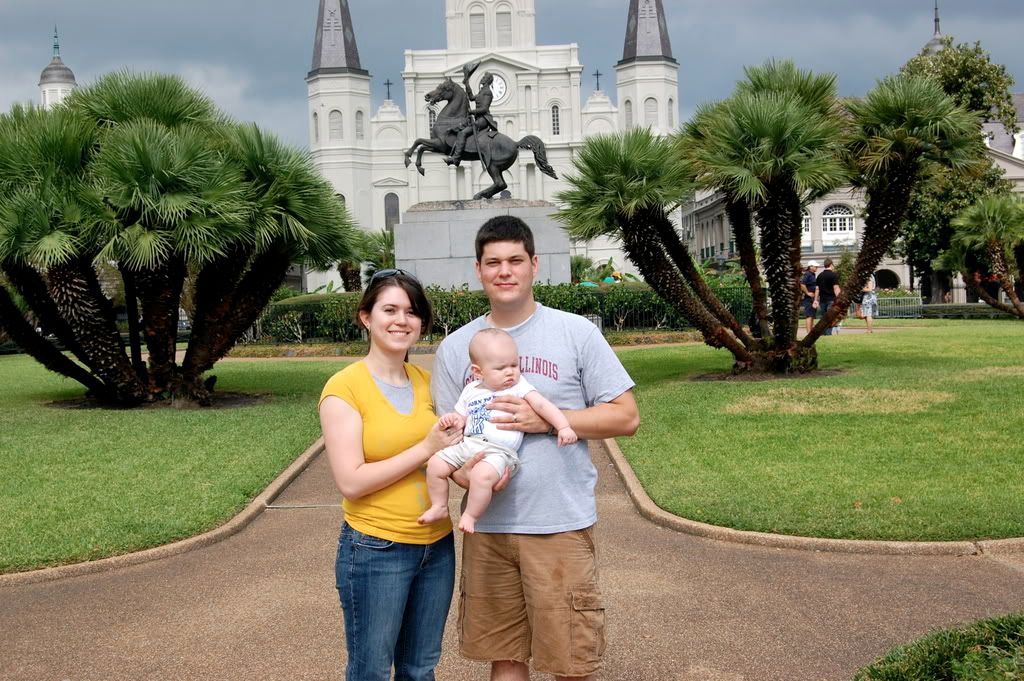 Chase, Simon & I were in
New Orleans
this past weekend for our commissioning as missionaries with the
North American Mission Board
. Normally, one would be commissioned at the beginning of an appointment, but it happened a little more than halfway through our two-year appointment because the first two commissionings were full and the third was right after Simon's due date. But New Orleans is Chase's favorite city, so this free trip worked out quite well.
The plane ride down was no fun for any of us. Of the hour and a half flight down, Simon cried pretty hard for an hour. People kept saying it was probably the pressure on his ears, and they were likely right, but he won't take a pacifier and is very persnickety about nursing (he likes it to be quiet and he hates being covered up, which makes it difficult to do in public). The sucking would have helped, but if he wouldn't nurse, there wasn't anything we could do for him. But thankfully, quite a few people on our flight were also missionaries and were very understanding and gracious.
Most of our time was spent at the hotel doing meetings and such... well, Si and I often went back to the room so we, er, he could nap and not be a general distraction. We did get to go to a few restaurants, got to meet up with some friends a few times and had a half day in the French Quarter where the famed street performer
Grandpa Elliot
sang to Simon (Chase took some video, but I'll let him post that).
I was really looking forward to having some delicious crab cakes while we were there, but with all the places we ate that served seafood, not one of them served crab cakes! New Orleans, I am very disappointed in you! That's the only seafood I like.
Now for some more negativity: Si has become the bedtime champ, falling asleep pretty easily, but our last night at the hotel was rough. So rough, in fact, that someone had called in a noise complaint about us. Si had been screaming and we finally just laid him down on our bed between us and we all fell asleep. Shortly after that, a security guard knocked on our door which startled Chase and woke up Simon who then started crying again. We got him back to sleep and made several futile attempts to move him to the crib. He ended up just sleeping in our bed.
So the next time you're staying at a hotel and your neighbor has a crying baby, it's in everybody's best interest
not
to call in a complaint because chances are as soon as the parents get that baby to stop crying and to go to bed, the security guard following up on the complaint will knock on the door and wake the baby causing him to cry even louder, and that will keep you and his parents up until they can get him back to sleep.
On a positive note, Simon was the champion of flying on our way back. He just fussed a little twice right before eating and slept almost the entire flight. Hooray! Hopefully he'll be that good when we fly to Arizona next week for
Joel & Alex
's wedding.
Now here's what you're really interested in, pictures: